Team C&D Cycles CC Cyclocross
I can't believe it's over because I am now thoroughly addicted to this awesome sport. It started with me taking SuperSam along and now it's very much our thing. Sam couldn't ride this week but rang me yesterday afternoon from his friend's house to ask how I got on, what was the course like, where did his fellow Cyclones finish etc. I think that say's it all doesn't it!
It's been a crazy week for my bike and body! On Sunday I bought new pedals, really nice ones actually and a great price from Chris at C&D Cycles. I came home and tested them and promptly snapped my chain and had another nasty fall. All I did was ride it up and down my road once!!!
poorly knee
boo boo on finger!
Seriously not my ribs again!!!
On Monday I took Franz into Andy and he fitted a new chain, again at a very reasonable price! I rode my bike back to the car and everything seemed fine. Andy's very wise words of caution were to test the bike before the race on Saturday! So on Friday I got my bike out...the pedals went round, the cogs went round and, the wheels stayed still! REALLY? Straight back to C&D Cycles and into Andy and Chris. I had videoed the problem to give them a heads up but when I got there the problem had gone! WTF? So then it was decision time. We debated the pros and cons of leaving it or changing the wheel and we concluded that a new wheel was the only sensible solution. Again the best bike shop in the world did me a great price and the £125 I ended up spending on Franz this week was very good value considering I've had: new pedals, new chain, new wheel and a new cassette. All the work carried out promptly at my convenience! I have got to redo my tubeless on the new wheel but it would've been taking the mickey to expect Andy to do that. Anyway I can make a video later which I'll enjoy, so that's all good too! As for the bumps and bruises I don't think anything is holding me back it's just the ribs I hurt at Cannock that are still very painful. Some people live and learn...I chuck myself around a slippery Cyclocross course!
This week's race was hosted by Welland Valley CC at Misterton Hall near Lutterworth. It was a quick drive down the A14 and up one junction on the M1. KCC Cyclones were once again well represented with kids in all age categories and Mark Evans team of fellow coaches and volunteers doing a great job. The course itself was, I think, the best of the whole season so a massive congratulatiosn to Welland Valley. The other person to mention is head Commissaire for the day, James Simons-Boswell.
Prior to the race there was a minutes silence for Charlie Craig, the talented young rider who tragically died last week.
http://www.bbc.co.uk/news/uk-england-derbyshire-38718487
If you look at the GB riders in the World Championships you'll see they're all wearing black armbands too. As a parent I can't think of anything worse that could ever happen to you and even though I have never met them my thoughts were with Charlie's family.
I need to make it clear I'm enjoying myself in this picture. If you look through the whole of Keith Perry's Gallery all you see is pain faces! Again it was tremendous fun, just pretty tough in places.
link -m thanks again for wonderful pics Keith
With that in mind it's a massive congratulations to Ashley for remembering to smile at the camera. Our C&D Cycles CC teenager, who thanked everyone but me yesterday for helping him achieve his first place, wins the cheesy grin of the day award. Ash is frankly still a bully. Racing against us old men isn't fair at all. Never mind Ash it's wrestling season now. You remember Ash that revenge is a pie best served cold and I think you know which of us is the expert on pies! Seriously though massive congratulations and I'm looking forward to supporting you again next year.
Andy Brown had a magnificent race to finish in 4th place. MTB's had the edge over CX bikes in places but it was the reverse elsewhere. As you'll see in a minute!
I think this is a great pic of Chris. Again he's enjoying this! Chris rode to a good 11th place. He was also my driver for the day so a big thanks to Chris and his magnificent van.
Man down! That was a tricky corner and it caught out a CX bike rider who I now know is called Wayne. It's being insinuated that many riders take a tumble in my vicinity. I can assure you all that my tubby presence in this picture has nothing to do with Wayne falling off.
See I was nowhere near him! I did ask if he was okay and this did gain me a place for definite as I rumbled in 14th on the day.
People keep being kind and say I don't look fat in these pictures. Well I do because I am. However I am doing something about that. At Christmas I topped the scales at 15st (95.2 kg) but due to MyFitnessPal I'm already down to 14st5lbs (92kg). Just keep slimming, just keep slimming...
A final shout out to our C&D Cycles CC friend Claire Moore who is now a key member of the Welland Valley team. Claire was on refreshments today. It was great to catch up and that tea was just the thing for our hydration schedule...who needs gatorade?
Enough about us weekend warriors. If you haven't caught up with the Cyclocross World Championships you really should! Team GB are having a great time in the juniors with a 1,2,3 in the junior men and a bronze in the U23 women. I watched friend of C&D Cycles CC Marianne Vos finish 2nd in an epic battle with Sanne Cant.
Disgracefully this isn't available to watch on UK television despite the fact you can watch the Dynarod third division north football and other mediocre roundball contests most days. Today it's the elite men's race and I'm looking forward to a showdown of the Van's (der Poel and Aert,) to name just two of these super human's!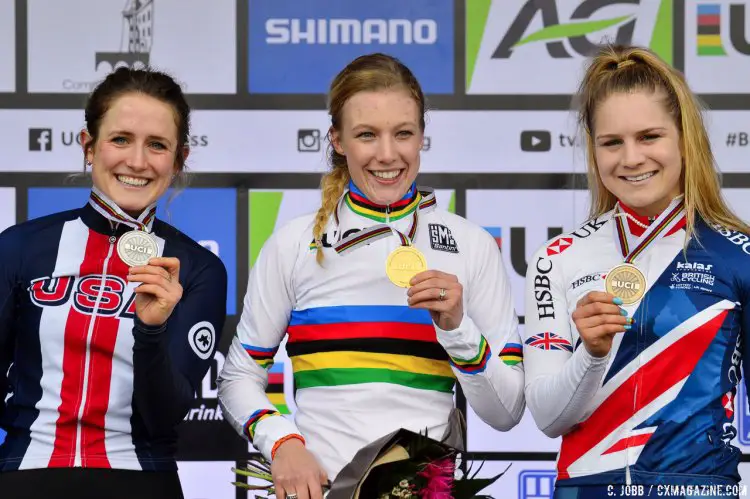 Here's some links if you want to watch online!
Okay lots to do today so I best get on it, including that tubeless tyre!
Happy Pedaling